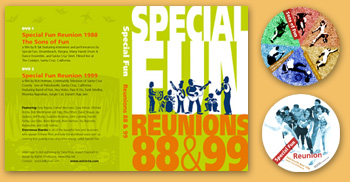 SOLD OUT : Limited Release Double DVD Set
CONTACT US IF YOU WOULD LIKE A COPY
Includes Barbara Takahashi's "Special Fun 1988 Reunion and Sons of Fun", a documentary of Special Fun's 1988 Reunion Show at the Catalyst, Santa Cruz.
Live footage and interviews of Special Fun band members, complimented by performances from post-Special Fun bands Dreambeach (Daniel Lewis), Pangea (Gary Regina and Gary Kehoe), Santa Cruz Steel (Michael Horne) and Many Hands Drum & Dance Ensemble (Arthur Hull).
The set also includes Special Fun's 1999 Reunion Show at Santa Cruz's historic Palookaville. This show was produced by Ron Holman of Community Television of Santa Cruz and the video quality is excellent!
Double DVD set is $25.00 + $5.00 shipping.
All orders ship within one business day
by Bigfish Smallpond Online Store.